Ayurvedic Cooking Spice Box
01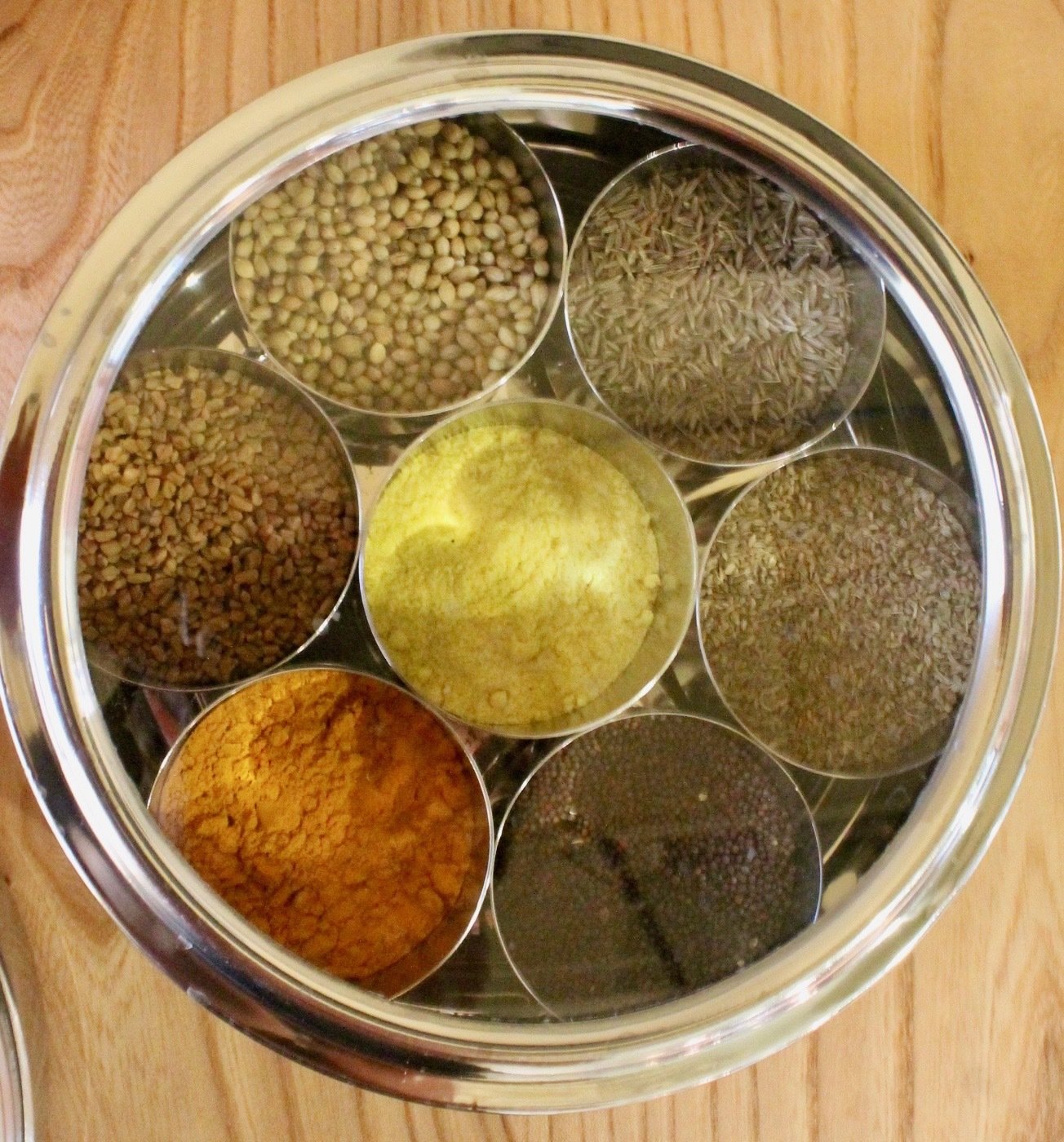 Why You'll Love It
This spice box is loaded with the best Ayurvedic cooking spices. We believe food is medicine, so your kitchen should be your medicine cabinet. With this kit you'll come fully prepared with a spice box, 1 spoon, and 7 organic and non-GMO spices. This will keep your spices fresh, organized, and readily available.
7 small containers with clear lid and spoon
Well designed for household utility
Made from the finest quality stainless steel material
The best Ayurvedic cooking organic spices
The Spices:
Ajwain
Ajwain is a strong respiratory and nerve stimulant. It is a powerful decongestant for both the respiratory and digestive tracts. Ajwan removes stagnation in the metabolic system. It promotes kidney function and energizes the nerves. It can help with poor appetite intestinal gas, and sinus congestion.
Uses: Awakens the digestion, alleviates intestinal spasms, helps digest and assimilate foods benefits breathing, mild laxative, and alleviates pain in the gastro-intestinal tract.
Biomedical Action: antispasmodic, carminative, nervine, analgesic, diuretic.
Asafoetida (Hing)
Asafoetida, often referred to as "Hing", cleans up the intestinal flora and strengthens the digestive fire. It is a powerful digestive stimulant and helps remove food stagnation from the G.I. tract. It can be used in cases of flatulence, cramps, spasms and worms. Used for arthritic pain, constipation, gas, rheumatism, and intestinal colic.
Uses: Powerful digestive agents, strengthens the digestive fire (agni), relieves intestinal gas, pain, and distention, dispels toxins, and breaks up impacted fecal matter and accumulations from excessive eating of meat or junk food.
Biomedical Action: Digestive, expectorant, carminative, anthelmintic, antispasmodic.
Coriander Seed
Coriander is a tri-doshic spice highly appreciated in Ayurveda. It is a cooling spice and contributes the sweet and astringent tastes. Ayurvedic texts suggest that it is good for digestion, wets the appetite, supports a healthy response to allergens, and also helps purify the blood.
Uses: Indigestion, sore throat, allergies, urinary tract infection, burning urethra, and hay fever.
Biomedical Action: Diuretic, enzyme activator, alterative, diaphoretic, stimulant, antiallergenic.
Cumin Seed
Cumin is an excellent spice that increases the absorption of nutrients and helps sluggish digestive system. Cumin also helps to reduce bloating, belching and gas, and helps to reduce diarrhea.
Uses: Digestion, gas, abdominal pain, bloating, sluggish digestion, and colitis.
Biomedical Action: stimulant, carminative, diuretic, aromatic,anti-spasmodic.
Fenugreek
Fenugreek is used to enhance digestion and prevent stomach disorders. It has been found to help the treatment of Diabetes along with a healthy diet. It strengthens the digestive system and helps reduce flatulence, indigestion, and sluggish liver. Fenugreek can also have beneficial results in treating urinary disorders, blood cholesterol levels, and sore throat.
Uses: Appetite builder, digestive, mild laxative, and alleviates symptom of diabetes.
Biomedical action: antidiabetic, diuretic, carminative, cholesterolaemic, and aphrodiasiac.
Turmeric
Turmeric is the one of the most revered spices in Ayurveda. It is a powerful cleanser of the liver and has gained a lot of popularity in the last few years. Some of the many benefits of turmeric include decreasing pathogenic bacteria found in the intestines, calming inflammation, reducing undigested food in the gastrointestinal tract, treating stomach ulcers, colds, and reducing the risk of bowel cancer. Turmeric is one of the best anti-inflammatory agents and can be used for most people
Uses: Anti bacterial, reduced inflammation, great for skin, liver stimulant, reduces fever and pain, and has a preventative role in bowel cancer.
Biomedical Action: Anti-carcinogenic, anti-asthmatic, anti-allegeric, blood tonic, anti-bacterial, hypolidiemic.
Black Mustard Seed
Black mustard seeds, also known as brown mustard seeds, are considered a digestive and good for alleviating stomach discomfort such as gas or cramps.
Uses: Coughs, body/joint pain, improves digestion, and dispels phlegm from the body.
Biomedical Action: Carminative, expectorant, analgesic, rheumatic.
Disclaimer: Information, statements, and reviews regarding products have not been evaluated by the Food and Drug Administration. Results vary person to person, and there is no guarantee of specific results. Santa Cruz Ayurveda assumes no liability for inaccuracies or misstatements about products.